How Much Does It Cost to Own a
Pigtails & Crewcuts

' Franchise?
Pigtails & Crewcuts — Active member of the child-related industry since 2003
Owning a Pigtails & Crewcuts child-related franchise can be a business, but it does have some initial financial requirements. To open a single hair location, the company requires that potential franchisees have liquid assets of at least $150,000.
The startup costs associated with owning a Pigtails & Crewcuts franchise are similar to those of:
View Similar Franchises
---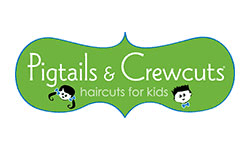 About Pigtails & Crewcuts
Interested in owning a kid's haircut franchise where fun and style meet? Pigtails & Crewcuts is a recognized brand dedicated to making haircuts fun for kids. The overall hair care industry in the U.S. is estimated to exceed $64 billion with approximately $7 billion spent in the children's segment. Pigtails & Crewcuts offers a turnkey business package and comprehensive training along with ongoing franchise support. Inquire now to learn more about this franchise!
Click here to get in contact with Pigtails & Crewcuts and request free additional franchise information.
Franchise Details
Investment Level

$150,000

Category
Child-Related
Financing Available

✔

Training & Support

✔

SBA Approved

✔
Company Details

| | |
| --- | --- |
| Incorporated Name | Pigtails & Crewcuts Franchise, LLC |
| Home Office Location | Atlanta, GA |
| Business Type | Franchise |
| Franchising Since | 2005 (18 years) |
| Industry | Child-Related |
| Industry Subcategory | Hair |
Investment Level Analysis
See how the investment level of Pigtails & Crewcuts compares to those of other available franchises.
---
Get Free Information
Does owning a Pigtails & Crewcuts franchise sound like the correct business venture for you? Add this franchise to your info basket and request free additional information about this business from the company, itself.
Pigtails & Crewcuts Info Basket
---
States Seeking Entrepreneurs
These are the locations, inside the United States, where Pigtails & Crewcuts is looking to expand its franchise network.
Pigtails & Crewcuts is currently accepting inquiries from the following states: AK, AL, AR, AZ, CA, CO, CT, DC, DE, FL, GA, HI, IA, ID, IL, IN, KS, KY, LA, MA, MD, ME, MI, MN, MO, MS, MT, NC, ND, NE, NH, NJ, NM, NV, NY, OH, OK, OR, PA, PR, RI, SC, SD, TN, TX, UT, VA, VI, VT, WA, WI, WV, WY.
*Interested parties should have at least
$150,000
in liquid capital to invest.