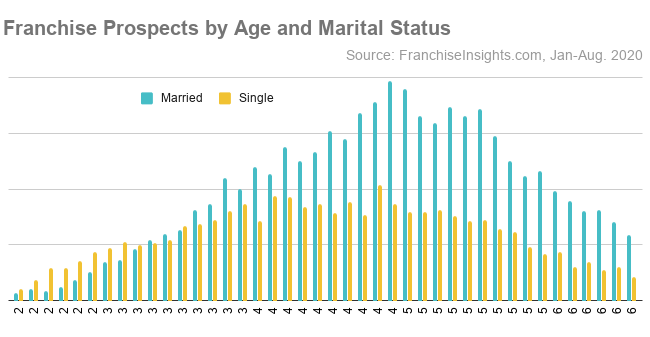 Nearly two-thirds of prospects interested in buying a franchise are married, an above-average rate that may add extra financial flexibility and stability to the startup process.
The current marriage rate is 63.2% for entrepreneurs contacting franchises to explore ownership, according to 2020 data from SmallBusinessStartup.com and the FranchiseVentures network of franchise directories. That's notably higher than the national rate of 55.7% for adults aged 24 and older. 
While correlation doesn't mean causation, marital status can affect financial assets and stability, particularly in two-income households. 
While prospects under 30 are more likely to be single (64.4%), the marriage rate for Millennial prospects is still higher than the national average for the age cohort, at 47% vs. 45%. Baby Boomers have a greater marriage-rate gap, at 71.3% for franchise prospects, vs. 62.4% for the national average.
Interested in more insights from our proprietary data set? Subscribe to our email newsletter below, or follow us on LinkedIn.