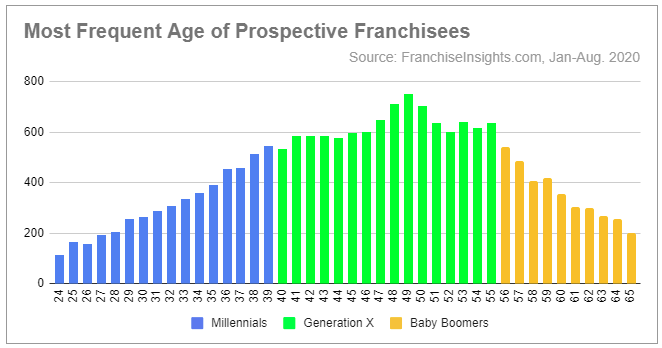 The most popular age to start a business might be older than you think. While successful entrepreneurs can be found at any age, the most common ages for exploring business ownership ranges from the mid-30s to mid-50s, according to data from SmallBusinessStartup.com and its partner sites. 
The peak age for contacting a franchise business opportunity so far this year is 49. Generation X is far and away the largest group of franchise prospects, with the 39- to 54-year-olds comprising 47.5% of prospects in 2020 year-to-date.
And starting a business later in life might actually help many owners succeed. A 2018 study published in the Harvard Business Review found that  entrepreneurs over 40  were more likely to succeed, and that the average age of a successful founder was 45. Further, the 2019 academic report on that research of 2.7 million entrepreneurs shows a similar distribution by age as the chart above from 2020, and a clear shift to greater startup success after age 40.
Interested in more insights from our proprietary data set? Subscribe to our email newsletter below, or follow us on LinkedIn.